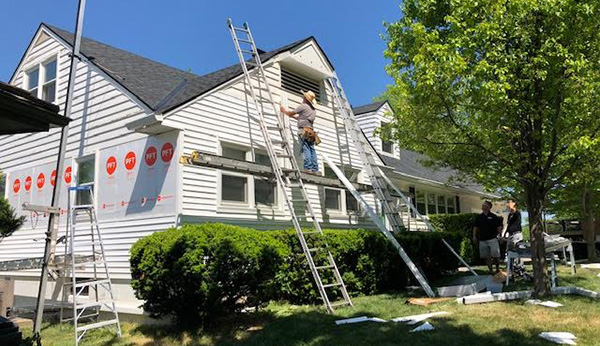 When your home or business is damaged by a storm, you want to be certain that you're working with a siding contractor in Kansas City, Aurora, and Maryland Heights, MO, along with San Antonio, TX, who you can trust. At JS Construction Consultants LLC., we provide clients with insurance claim restoration services they can count on. From the moment you reach out to our business, you can feel confident that you are working with siding contractors who are fully certified and have received extensive training in their field of work.
As a business with years of experience in insurance claim restoration, we know all the ins and outs of restoring the siding on your property to its best possible state. Our team of siding contractors in Kansas City are able to provide exceptional results. Meanwhile, we'll work directly with your insurance provider to streamline the construction process and complete your restoration in a timely manner.
If the siding on your commercial or residential property was damaged by severe weather, we are here to help. Whether you own a residential or commercial property, JS Construction Consultants LLC. will use the latest technology and eco-friendly materials to deliver the construction results you need. Siding options include the following and more:
Vinyl siding: Many property owners choose vinyl house siding because it is affordable and reliable. This extremely common type of siding is available in an assortment of colors. Its versatility allows homeowners and business owners to customize a building's look or try to match new siding to an existing exterior.
Fiber cement board: This type of siding offers some of the best durability and resiliency on the market. It is also resistant to decay, fire and termites, and provides a visually appealing and cost-effective alternative to other siding options.
Wood siding: People who choose wood siding for their properties enjoy its natural and earthy aesthetic. While beautiful, wood siding does not provide the toughness or strength of other varieties when subjected to harsh climates over extended periods of time.
When you hire JS Construction Consultants LLC., you can rest assured that your property's siding will look as good as new upon completion. Our company values each of our clients and takes a hands-on approach to communication throughout the restoration process. This means you will never have to worry about being left out of the loop or being the middleman between your contractors and insurance provider. For more information on the expansive insurance claim restoration services provided by JS Construction Consultants LLC., contact us today at (816) 325-0411 to speak with our roofing, remodeling, and siding contractors.