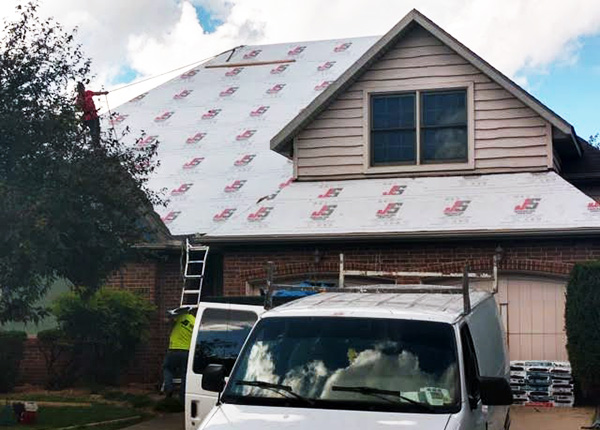 Restoration Roofing Experts
At JS Construction Consultants LLC., we know that your roof is one of the most important structural components of your home or business. When severe storms hit and damage your roof, it can quickly render parts of your building unusable. That's why JS Construction Consultants LLC connects you with expert residential and commercial roofing contractors in Kansas City, Aurora, and Maryland Heights, MO, along with San Antonio, TX, who makes your property top priority.
Each construction consultant at JS Construction Consultants LLC. is fully certified, knowledgeable about the latest industry advancements and guaranteed to have high standards of professionalism. We will work directly with your insurance provider to alleviate much of the burden that comes with handling an insurance claim. Our goal is to make your roof restoration as seamless and stress-free as possible.
As one of the few local roofing companies in the area, we advise our clients on wide variety of different roofing types in an assortment of colors. No matter what type of roof your property needs, our team of residential and commercial roofing contractors can deliver. Roofing options include the following:
Metal: Many of our clients choose metal roofing for its toughness and longevity. When properly taken care of, metal roofs provide property owners with a reliable surface that can go years without a repair or replacement.
Wood shake: Wood offers a particularly appealing, earthy look that many homeowners enjoy. Though they do require some maintenance over time, wood shakes remain a solid roofing option that can last for decades to come.
Asphalt shingle: This type of shingle is a popular choice and one of our most economical options. With a selection of different colors to choose from, three-tab asphalt shingles offer a way to strengthen your home while customizing its look.
Commercial: If you need roof reconstruction for your commercial property, turn to JS Construction Consultants LLC. for assistance. Our experts will assess the needs of your office location and provide a knowledgeable recommendation for roof restoration.
Built up/roll roofing: For buildings with a low, sloped roof, you may want to consider roll roofing for your restoration. Roll roofing is made of durable and long-lasting asphalt materials that keep your property protected.
TPO roofing: Thermoplastic polyolefin (TPO) roofing offers a popular solution for many commercial building owners. This type of roofing is appealing for its reflective and durable materials that can add to a building's energy efficiency.
What makes our services different from every other roofing company in Kansas City is that we offer a five-year guarantee on all of the work that our contractors complete. If you'd like more information on our services, contact our siding, remodeling, or roofing contractors today by calling JS Construction Consultants LLC. at (816) 325-0411.